Edenlife 2021 Winner
We are very pleased to advise that Edenlife Australind picked up the award for excellence in the seniors living division of the UDIA WA awards event on Saturday night (11th September 2021).
We were also delighted to be announced as a finalist in the Judge's Award (Russel Perry Award for Urban Development Excellence)  across all categories.
Great result for the Lester Group, Edenlife team and for all of our partners as we grow the business and our reputation as a developer of quality assets for older Australians.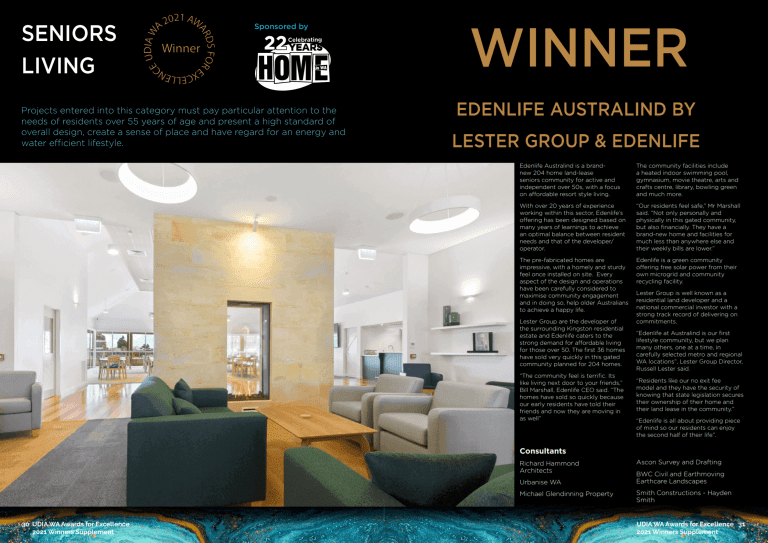 Edenlife Australind, the Lester Group's first lifestyle community, is one of a number of communities to be developed in carefully selected locations throughout the metro and regional centres of Western Australia under our Edenlife Lifestyle Communities brand.
The land lease model or modular home estates as it is known in the Eastern States, has continued to grow across Australia with the asset class now being recognised as a real credible alternative option to the retirement village model offering residents with security of tenure and oversight of operations by State and Local Governments.
Edenlife Lifestyle Communities not only include outstanding community facilities, but there are also no deferred management or exit fees with all proceeds from resident home sales being retained by the owner. This coupled with a real focus on our environmental credentials, Edenlife communities offer free power to our residents from our solar installations and purpose-built recycling centres to progress our contribution to improving the environmental footprint of each community.
"What we have developed is based on many years of experience both in built form and community operations to achieve a blank canvas to help mould and form an amalgam of life experiences into a strong and vibrant community facilitating a level of engagement that suits diversity. Already we are seeing some wonderful examples of what community can be" Edenlife CEO William Marshall said.